Shanks and Flanges

The WNG Composite Hammer Shank combines a composite Shank Butt and a Carbon Tube Shank. The Shank Butt is made from the standard WNG black composite and the Carbon Tube Shank is a pultrusion made from Carbon Fiber and Epoxy. The resulting part is extraordinarily stiff and does not suffer from the tendency of a wooden shank to bend and whip
More Information:
The video on the right was filmed using a high-speed camera and shows what happens when a wooden shank and a WNG Carbon Tube Shank are played. It explains that because wood is an organic material, its quality is very inconsistent and out of an entire set of shanks, only a few are truly "strong", yet every shank is used.
A WNG Carbon Tube Shank's strength is as strong as the strongest wooden shank, but doesn't have the variability in quality that wood does. You can be sure that every WNG Carbon Tube Shank is as strong as the one next to it, and that any piano action equipped with WNG's Carbon Tube Shanks will see a notable increase in power, consistency, and longevity.
WNG sells hammers!
Click here to visit our hammer page!
Need a drill bit?
Click here to visit our drill bit page!
---
The Completely Redesigned WNG Hammer Shank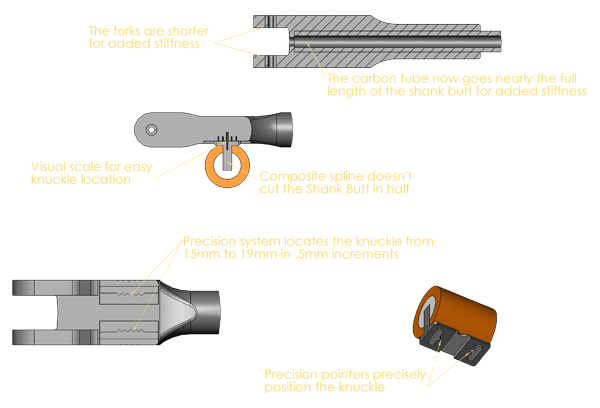 What is "whipping"?
A hammer shank has a rough life. When a pianist plays a key, the hammer is required to accelerate at roughly 5 times the rate of the key. A wooden shank lacks the strength required to accelerate the hammer this rapidly and thus bends backwards for a short period of time. The shank then becomes a spring capturing some of the energy of the blow. A few milliseconds later, the shank then whips forward. It does not, however, recover all of the captured energy.
Does a shank really need to whip?
No! For years whipping was thought necessary for the simple reason that all wooden hammer shanks exhibited this behavior.
When a wooden hammer shank bends under its load, some of the energy that should actuate its strings is lost, dissipating into the fibers of the wooden shank as heat. Because of this, a wooden hammer shank is very inefficient.
To eliminate this problem, WNG uses a carbon shank which is very stiff and minimizes bending. Substantially less energy is lost to bending, thus the WNG carbon shank is much more efficient. This translates into much more powerful sound when a note is played.
Tapered Shanks
Traditionally, hammer shanks are larger in the bass, changing to smaller in the treble. The larger size in the bass provides the most efficient power transmission while the lower mass in the treble provides enhanced sustain. In a wooden set of hammer shanks this is achieved by tapering the hammer shank in the tenor and even more in the treble.
Acoustically, these principles are still valid in a composite hammer shank. WNG provides three different tube masses in a set of hammer shanks for maximum power transmission, clarity, and sustain across the scale. In order to make drilling and hanging hammers easier, all shanks are now a single diameter.

In the bass, to maximize power transmission for the larger hammers, WNG provides a 4.67mm diameter tube with a 1mm wall thickness.
In the tenor, to maximize power transmission and to provide a transition to the lighter treble shanks, WNG provides a 4.67mm tube with a 0.8mm wall thickness.
In the treble, to maximize sustain and lower mass, WNG provides a 4.67mm tube with a 0.60mm wall thickness.
The same drill bit can be used for all three shanks.
Hard Bushings
Cloth bushings have problems:
- Cloth bushings are unstable in a changing humidity environment
- As cloth bushings change, center pin torque changes
- As pin torque changes so does the touch of the piano

In comparison, hard bushings are quite advantageous:
- Hard bushings are dimensionally stable as humidity changes
- When exposed to changing humidity, pin torque change is negligible
- The change in the touch of a piano is negligible
Test Results: After 18 million blows, pin torque exhibited virtually no change. In extreme environments, from 10% to 90% Equilibrium Moisture Content, pin torque was stable.
Read how Wessell, Nickel & Gross succeeds where Teflon bushings failed...
Dimensionally Accurate Flanges
WNG has carefully engineered flanges for popular models so that the flanges provide a correct fit to the existing rails.
Organized into sets for popular models of pianos
WNG has organized sets of shanks and flanges for a number of popular pianos. Each set includes the appropriate flange, knuckle location and knuckle diameter. All sets feature three tube graduations for power and sustain.
Select one of our pre-configured models, or configure your own custom shank and flange.