About Wessell, Nickel & Gross
Wessell, Nickel & Gross was founded in 1874 by Otto Wessell, Adam Nickel, and Rudolph Gross, each an accomplished piano action maker. The three met while they were under the employment of Steinway & Sons and quickly became friends. Wessell, ever ambitious, urged Nickel and Gross to leave Steinway and start their own piano action business. The two agreed, and Wessell, Nickel & Gross was formed.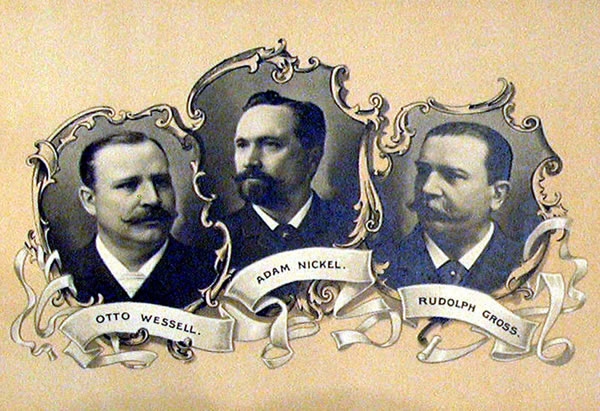 During their first year of business, Wessell prided himself on the fact that he personally delivered each piano action to its customer. However, due to the stellar reviews and recommendations from each of the regulators and finishers who worked on the actions, this courteous gesture soon proved to be impractical, as orders began to overwhelm the then-small company very quickly. Wessell, Nickel & Gross had built a reputation for crafting a superior product.
During this time, WNG supplied actions to many famous piano manufacturers such as: Mason & Hamlin, Knabe, Ivers & Pond, J & C Fischer, Mehlin, Julius Bauer, Everett, Hallet & Davis, Star, Strohbert, Stieff, Packard, Mayland, Bush & Lane, Gabler, Heintzman, Bush & Gertz, Hardman, Conover, Wheelock, Phragmatone, Behning and Son, and Steinert.
Throughout the following years, business continued its upward trend and the name "Wessell, Nickel & Gross" became world-renowned and synonymous with the highest quality piano action that one could buy. However, despite these successes, the company experienced losses as both Otto Wessell and Adam Nickel passed on. They were succeeded by their sons, Arthur and Fernando Wessell, and Henry Nickel, who continued the company's tradition of excellence.
Unfortunately, Wessell, Nickel & Gross suffered during the Depression and due to financial stress was absorbed by the Aeolian Piano Corporation, and their equipment and processes were then used in Aeolian's production. Once this happened, Wessell, Nickel & Gross ceased to be an independent company and stopped supplying actions to piano manufacturers outside of the Aeolian Piano Corporation. Unfortunately, Wessell, Nickel & Gross' action quality suffered under Aeolian's ownership.
The name "Wessell, Nickel & Gross" then lay dormant from 1953 until 2005, when the Burgett brothers acquired the trademark. Since then, they have brought back the ideals, innovation, and standards of craftsmanship that the original founders once had, and are poised and ready to bring Wessell, Nickel & Gross back to its original status as the best piano action maker in the world.